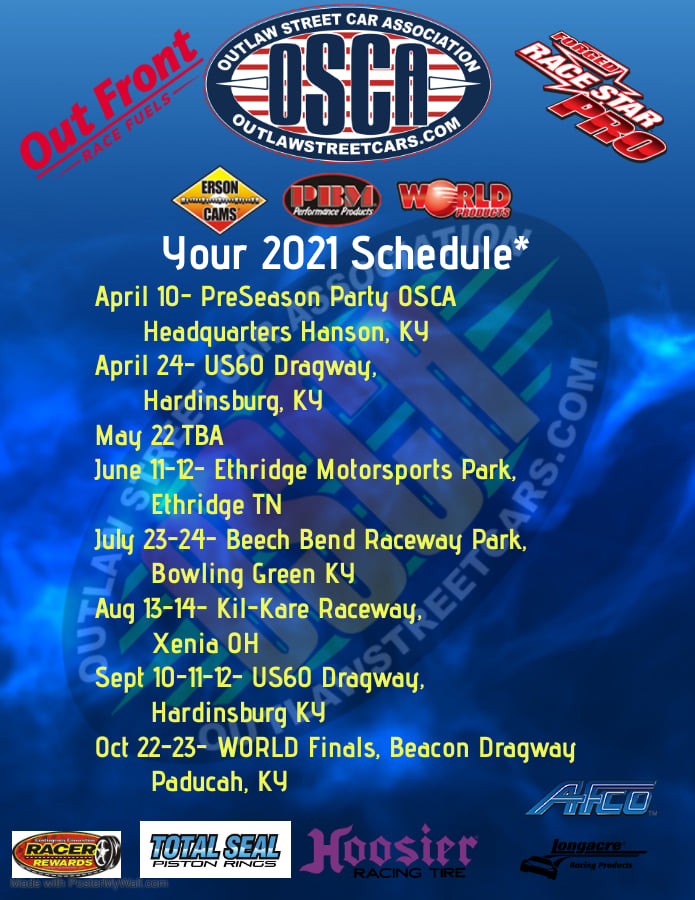 We are less than a week away from the OSCA Beech Party w/ Heather Storm. We think this is going to be the event of the year for us featuring all types of Championship Drag racing. We are very excited to be hosting awesome classes like Extreme 10.5 presented by Bullseye Power Turbochargers, Outlaw Top Sportsman, Small Tire heads up, Indexes, Open Comp, Jrs, Street legal classes and even a High Roller Bracket. PLUS we are thrilled to be hosting our special guest Heather Storm who will be signing FREE posters and taking lots of pics. We are offering a Cruise-In for local car enthusiasts to show off their rides. Friday features TNT and a Gambler Bracket. Saturday is a full day of OSCA racing and cruise in. You can make your weekend complete by sticking around Sunday for NHRA Bracket racing presented by Beech Bend Raceway Park. It's gonna be an awesome weekend full of ACTION and FUN. DON'T MISS IT! ... See MoreSee Less
2 weeks ago
Excited to be a part of the event! See you there!
I'm planning on coming, I have a shirt with autographs from other tv personalities that are mostly from the car industry and would love yours on there as well. Miss you on GS, but enjoy your traveling posts!
Are you planning on going to the street rod nationals in Louisville Kentucky first week in August.
Please put down Robert Eubanks for the high roller race
Ella Jackson wanna go saturday?
Hmmm. I might have to roll out there for the Friday night gamblers race.
OSCA Add LaRay Huffines to the list for the High Roller Shootout please
Who all is entering outlaw street?
Cuando me vas a contestar, soy José Luis de argentina,, sigo tus viajes y te felicito, me gustan los autos y veo que a vos también,, bueno un besote
Great racing…… until the let down at the end when the finalists decided to split the money. That isn't good racing for us spectators that pay to watch the races. Fine decide to split the money, but you could still run your cars to give us a show!!!!! Respect to Wild Bill for going all out when he didn't have to. That is a real racer that appreciates his craft and wants to show out for those whom came to see some fast cars!
What time does the gates open Friday, an what time will t&t start?
Was looking forward to coming up from Memphis to meet you and get a poster. Also the car show, but had to get my puppy an operation and now I have to stay home and take care of him. Hopefully you'll be back in the Memphis area again.
sounds great!! Good luck Heather!!
Come up to bowling green Ohio and see a really cool museum
What day is the cruise in?
you know i will be there to see Extreme 10.5 and Top sportsman
LOVE FROM DOWNUNDER HEATHER.GOD BLESS TOO.
At least your moving East. Now a few hundred Mike's north east and you'll find NJ just sitting there waiting for you. Maybe????
Heather come up to minn state fair. In aug i went to back to the 50s it was great back in june
OSCA What's the plan if the shootout (High Roller) does not fill up?
I'd guess that OSCA doesn't have anything to do with OSCA cars.
Load more